CASE STUDY:
HANS BOODT MANNEQUINS
HANS BOODT MANNEQUINS | POWERED BY INNOVATION
Hans Boodt Mannequins is a company with passion. With their specialist experience, they create unique experiences for tomorrow with their mannequins. Hans Boodt Mannequins came to Clever Strategy with the ambition to become the most digitized mannequin company in the world. Setting a target like that makes our heart beat faster, so we were glad to enter into this partnership. We soon realized that the Hans Boodt Mannequins DNA (innovative, creative, Dutch, rebellious and young) matches very well with our own.
After developing the CRM landscape, we redesigned and rebuilt the Hans Boodt Mannequins website. We were challenged with the task to translate the unique experience of Hans Boodt Mannequins into a digital environment, available in no fewer than 11 countries. It was important for them to let their own marketers continue the development of the digital experience independently. Naturally, the new website contains various smart functionalities to maintain a fact-based and data-driven focus. Various campaigns have been developed, such as for the "Muse" mannequin collection of Hans Boodt Mannequins as well as for requesting brochures.
It is an honour for us to work with an organization with such an international status in the top segment of retail, fashion brands and fashion designers. True to Hans Boodt Mannequins motto "driven by craftsmanship, powered by innovation" we will continue to inspire each other as partners in the future.
CRM LANDSCAPE INCLUDING SHARPSPRING
Our partnership started by developing a CRM landscape. The current ERP system was linked to the marketing automation package SharpSpring. SharpSpring is a marketing and sales platform that provides users with an all-in-one marketing automation solution.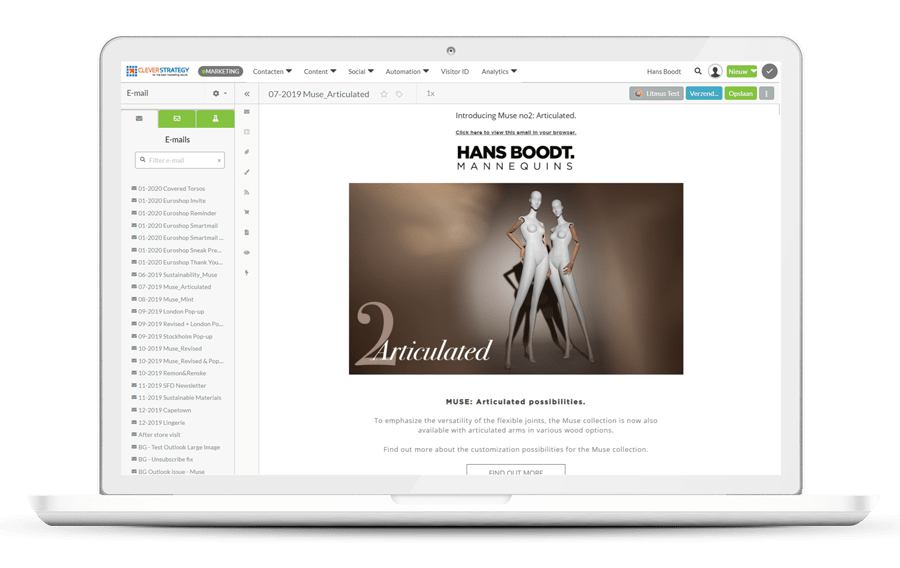 With this solution we can support the marketing program of Hans Boodt Mannequins, for example:
We started out as an integrator to set up the CRM landscape. After setting up both the sales and marketing modules, we upgraded the website with the various SharpSpring functionalities. After the set up, both the marketers and the sales manager of Hans Boodt Mannequins were trained in its use. The combination of software application and training has generated a lot of valuable insights for everyone involved.
LEADFORENSICS, IDENTIFY ANONYMOUS VISITS, CREATE CONTACT INFORMATION
Within the Hans Boodt Mannequins digital landscape, we have also implemented LeadForensics. With this tool we can make real time identifications of anonymous visits. We receive contact information from an international database, which we can connect to a part of the visitors to the website (company name, contact details, website behaviour and financial data). We have linked LeadForensics to SharpSpring, so we can follow up the connections with further activities. All data is being displayed in real-time on a dashboard.